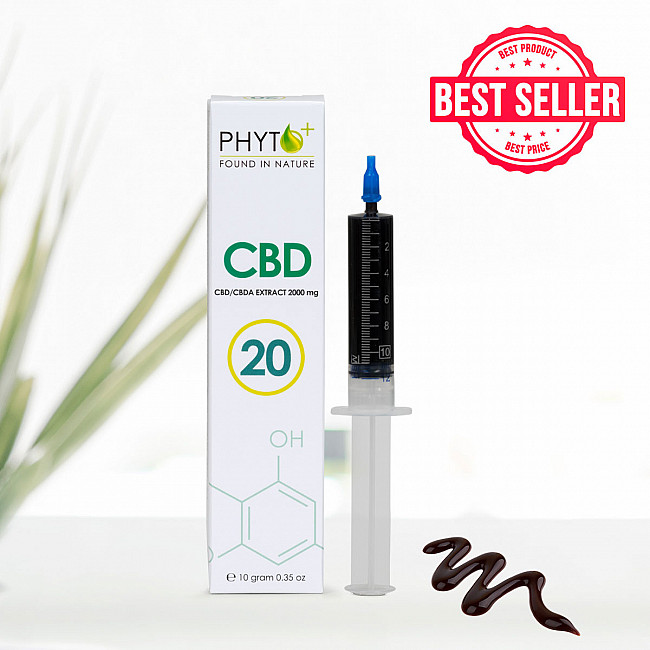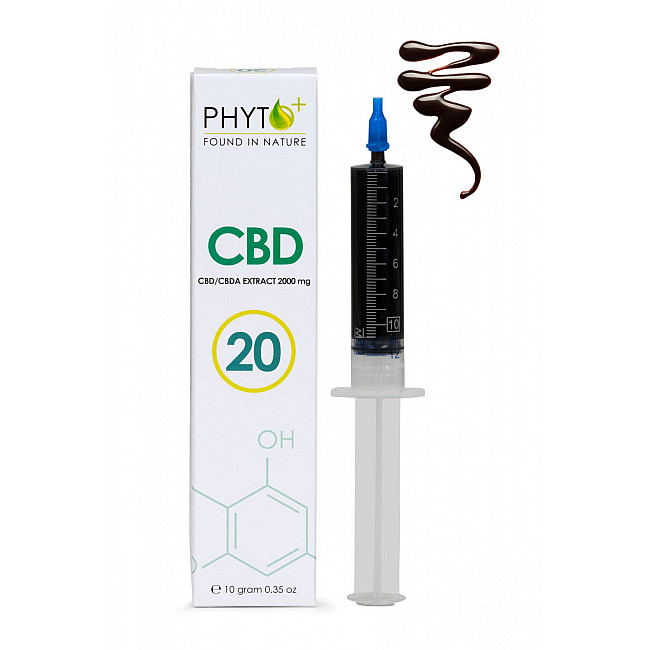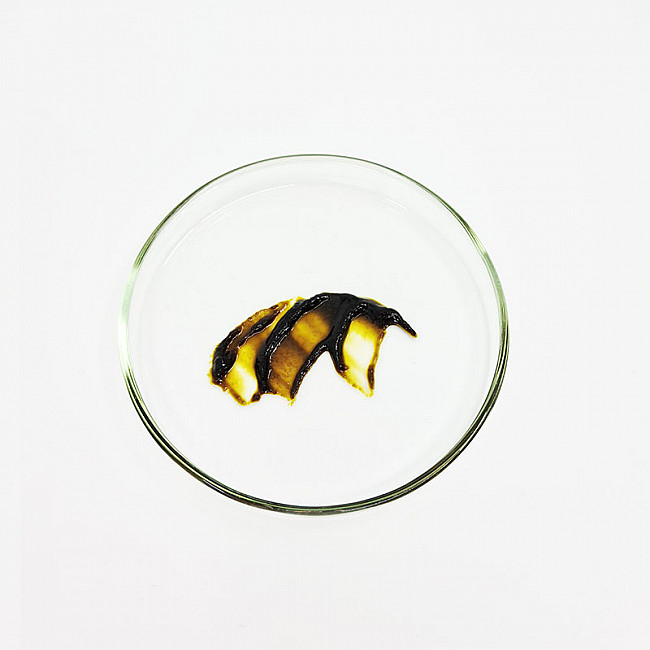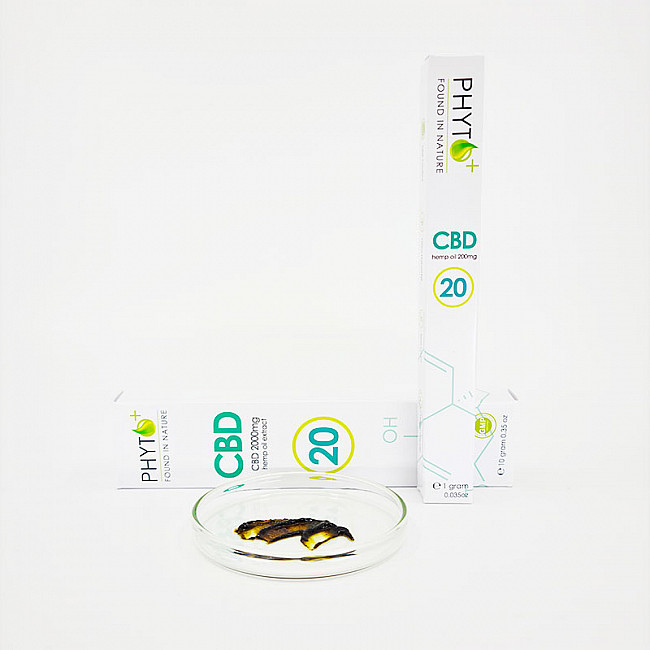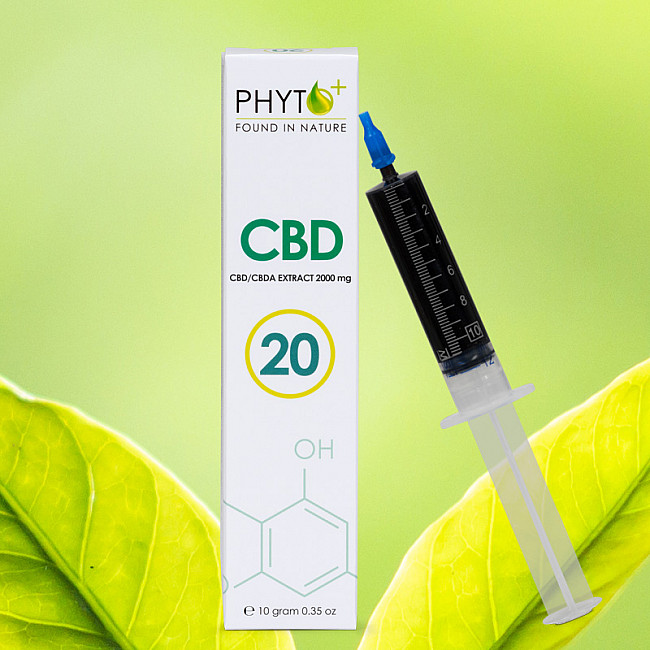 CBD Extract 20% | 2000mg
Description
FULL SPECTRUM | STRONG FORMULA | PURE & UNFILTERED
Description
Phyto Plus® CBD extract 20% is an extremely potent full-spectrum hemp oil. This powerful product contains 2000mg of pure CBD+CBDa. To achieve the entourage effect, this exceptional extract is rich in all other essential cannabinoids, terpenes, and flavonoids. The complete cannabinoid profile is present in this 100% natural extract, creating the ultimate synergy (entourage effect). This product is perfect for individuals seeking a potent full-spectrum CBD supplement. This unique oil is produced using a delicate method, allowing you to fully experience the therapeutic effects of hemp.
Phyto Plus® CBD extract stimulates and regulates the endocannabinoid system to achieve the ultimate balance in both body and mind.
Would you like to experience the full range of benefits that the powerful hemp plant has to offer? Then Phyto Plus® CBD extract 20% - 2000mg is the perfect choice for you.
2 or more 122.07 USD
5 or more 116.87 USD
10 or more 109.57 USD
Stock:

In Stock

Product:

CBD Extract 2000mg

EAN:

8718719450215
CBD Oil Extract 2000mg | strong formula
Phyto Plus® 2000mg raw formula is our purest and strongest CBD Oil Extract. This extra-strong CBD paste is unfiltered to retain all essential cannabinoids, terpenes, flavonoids, and other important phytonutrients such as Omega -3 + -6, Vitamin D and Vitamin E. CBD Oil Extract 20% is very suitable for a strong dose of CBD+CBDa. If you feel the need to add a powerful CBD supplement to your daily health routine, this CBD Extract of 2000mg is the right choice for you.
A 100% natural supplement is a blessing for your body and mind.
The cannabinoids CBD+CBDa naturally occur in the hemp plant. These plant compounds stimulate your body (the endocannabinoid system) to get and stay in balance. Your endocannabinoid system regulates many vital functions such as your appetite, mood, sleep, and of course, your immune system.
CBD Extract 20% from Phyto Plus is the CBD oil supplement if you want to enjoy the "Entourage effect". Due to the delicate extraction method with Co2 that we use, all cannabinoids are preserved. All cannabinoids together ensure a harmonious effect. Together in one dose, they have a more powerful and balanced result.
Sometimes a physical imbalance affects the condition of your skin. Because CBD Extract 20% is rich in plant waxes and essential oils, you can use this pure CBD extract on the skin.
With the freshly picked hemp from our fields in Europe, our CBD specialists create this extra potent CBD extract for you to consume hemp in a unique way while preserving the beneficial goodness that this plant has to offer. We produce all CBD products under strict GMP standards. We use the safest and cleanest methods to guarantee you the purest quality CBD Oil.
How do you use 20% CBD extract from Phyto Plus?
Suitable for oral use and on the skin.
Oral:
Use it two to three times a day. Place under your tongue and wait 60 seconds before swallowing. Always start with a drop of CBD paste the size of a grain of rice.
Skin:
Apply to the skin two to three times a day. Cover with a bandage.
Product content
Cannabidiol percentage
200mg CBD per gram | 2000mg Total
Weight
10 gram
Cannabinoids
CBD, CBDa, CBC, CBG, CBN
Spectrum
Full-spectrum | Raw CBD extract
Carrier oil
None
Terpenes
Myrcene, Limonene, Alpha & Beta-pinene, Linalool, B-caryophyllene, Caryophyllene oxide, Terpinolene, and Humulene.
Other natural molecules
Cannabis plant waxes, alkalies, nitrogenous compounds, amino acids, aldehydes, ketones, flavonoids, glycosides, vitamins, pigments, water, co-factors, and co-nutrients.
Extraction method
Supercritical Co2 Extraction
Certifications
GAP certified | GMP/ISO certified
Allergy information
Allergy information
Contains naturally occurring limonene and linalool.
Combination of drug use
When using regular medicines, caution is always advised. Always check the leaflet or consult your doctor for your medicine if you can consume grapefruit or grapefruit juice in combination with these medicines. Using high levels of Cannabidiol in combination with your regular medicines may affect the P450 enzyme. As a result, both products are not properly processed in your system (in the liver). Nevertheless, Cannabidiol is a very safe natural product.