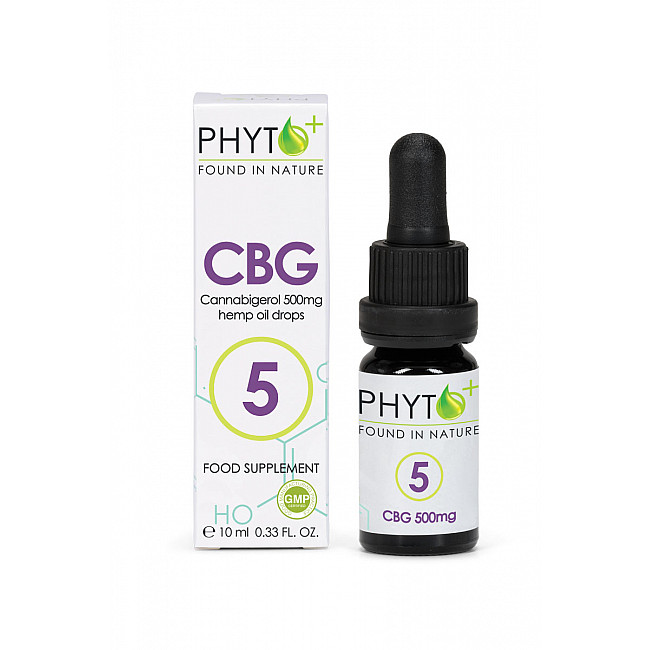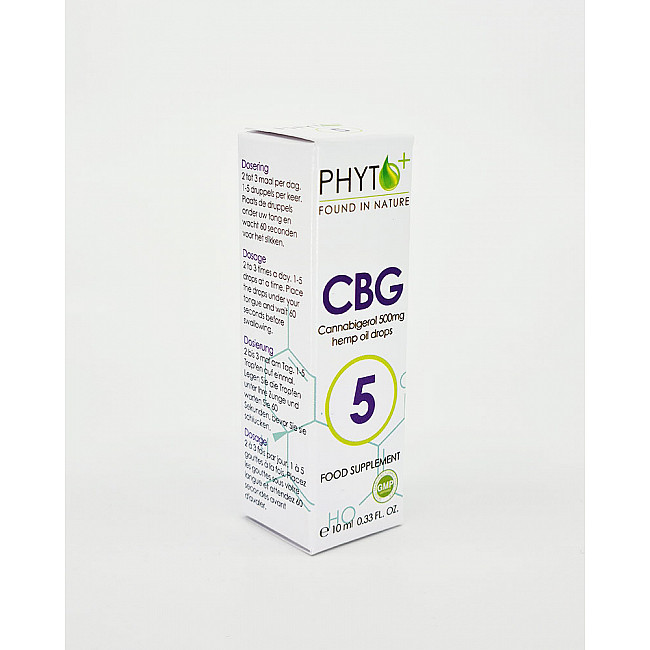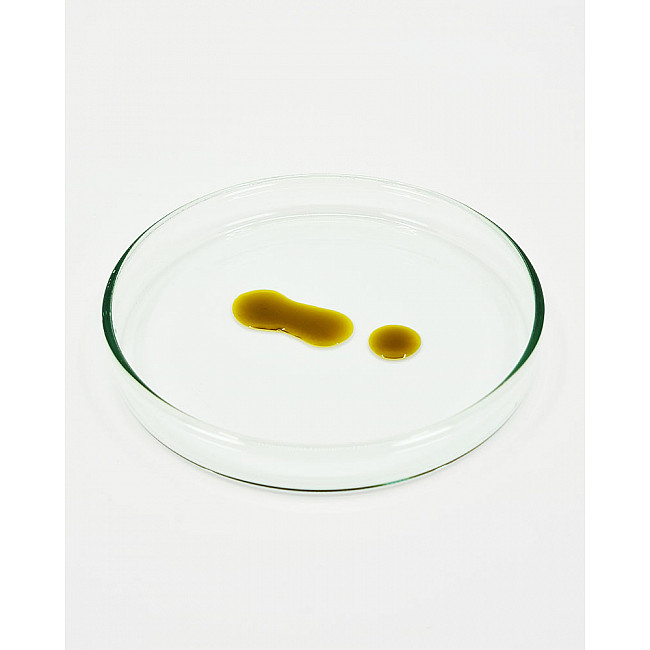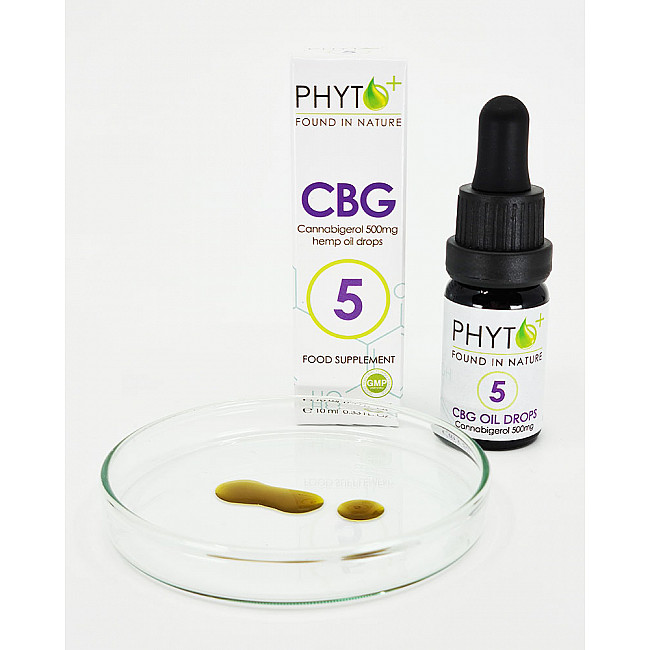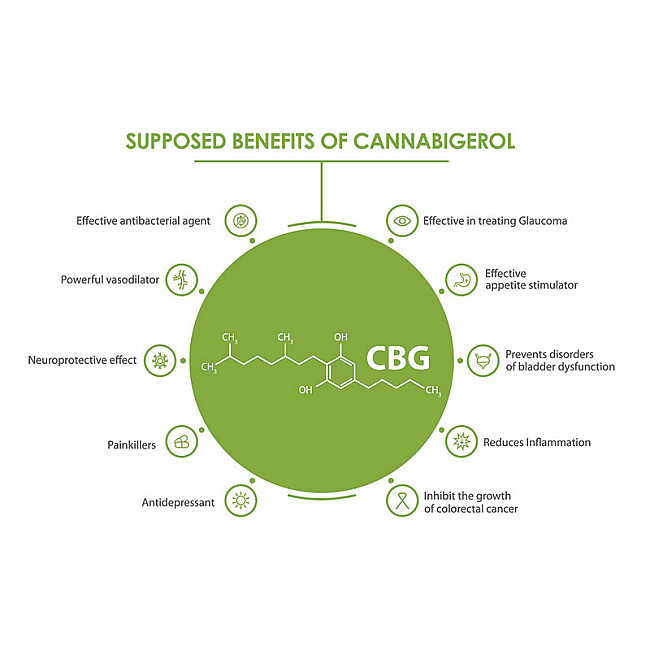 CBG Oil Drops 5% | 500mg
Description
FULL SPECTRUM | UNIQUE FORMULA | SYNERGY ENHANCER
CBG oil is a phytocannabinoid with properties similar to those of CBD. By using Phyto Plus® CBG oil with a concentration of 5%, you can take advantage of this excellent product's unique properties to support your overall well-being. CBG can help alleviate skin problems, anxiety, and relax muscles, which is beneficial for muscle recovery after exercise. To fully benefit from the therapeutic effects, you can combine CBG with Phyto Plus® CBD oil, as they work synergistically to enhance and increase each other's effectiveness. Order now and discover the benefits for yourself!

✓ Synergy enhancer
✓ Relaxation support
✓ One bottle 10ml = 300 drops - good for 60 days of use
✓ One drop = 1.5mg CBG
3 or more 35.35 USD
5 or more 33.48 USD
10 or more 31.62 USD
Stock:

In Stock

Product:

CBG Drops 500mg

EAN:

8718719450345
Buy CBG Oil Drops 500mg | strong formula
Cannabigerol (CBG) oil drops are a relatively new product in the market that is gaining popularity due to their potential health benefits. CBG oil works with the endocannabinoid system (ECS) to promote overall well-being like CBD oil. The ECS is a complex biological system that is critical in regulating various physiological processes, including sleep patterns, mood, memory, pain perception, immune system, locomotion, and appetite. The ECS maintains balance in the body by producing endocannabinoids that bind to cannabinoid receptors, thereby activating different signaling pathways.
Cannabinoids and the Endocannabinoid System
Cannabinoids are naturally occurring compounds found in the cannabis plant. The two most well-known cannabinoids are tetrahydrocannabinol (THC) and cannabidiol (CBD). THC is the psychoactive component that causes the "high" associated with cannabis use. Conversely, CBD does not produce any psychoactive effects and has been associated with various health benefits, such as reducing anxiety and inflammation.
CBG is another non-psychoactive cannabinoid that has been gaining attention due to its potential therapeutic properties. CBG is a precursor to other cannabinoids, including CBD and THC, which means the cannabis plant uses CBG as a building block to produce these active compounds. CBG is usually found in low concentrations in the cannabis plant, making it a rare and valuable cannabinoid.
CBG Oil Drops and the Entourage Effect
When CBG oil drops and CBD oil drops are used together, they produce a synergistic effect known as the entourage effect. The entourage effect refers to the enhanced therapeutic benefits of using multiple cannabinoids together instead of using them individually. Combining cannabinoids, terpenes, and other plant compounds found in full-spectrum CBG and CBD oil drops creates a more comprehensive and effective treatment than isolated compounds.
The entourage effect has been studied extensively in recent years, and research has shown that it can improve the effectiveness of cannabinoids in treating various health conditions, such as pain, anxiety, and inflammation. To achieve the ultimate entourage effect, it is recommended to alternate between CBG oil drops and CBD oil drops, allowing the body to benefit from the unique properties of each cannabinoid.
How do you use 5% CBG oil from Phyto Plus?
Apply two to four drops on or under the tongue up to three times daily. Keep in your mouth for 60 seconds before swallowing.
For new users: one drop three times a day. You can increase by one drop per intake every three days until you reach the desired dose. (Usually, this is around day 12).

Product content
Cannabidiol percentage
500mg per dropper bottle
Weight
10ml
Cannabinoids
CBG, CBGa, CBD, CBDa, CBDv, CBC
Spectrum
Broad-spectrum | Semi Raw CBG extract
Carrier oil
Hemp seed oil
Terpenes
Myrcene, Limonene, Alpha & Beta-pinene, Linalool, B-caryophyllene, Caryophyllene oxide, Terpinolene, and Humulene.
Other natural molecules
Cannabis plant waxes, alkalies, nitrogenous compounds, amino acids, aldehydes, ketones, flavonoids, glycosides, vitamins, pigments, water, co-factors, and co-nutrients.
Extraction method
Supercritical Co2 Extraction
Certifications
GAP certified | GMP/ISO certified
Allergy information
Allergy information
Contains naturally occurring limonene and linalool.
Combination of drug use
When using regular medicines, caution is always advised. Always check the leaflet or consult your doctor for your medicine if you can consume grapefruit or grapefruit juice in combination with these medicines. Using high levels of Cannabidiol in combination with your regular medicines may affect the P450 enzyme. As a result, both products are not properly processed in your system (in the liver). Nevertheless, Cannabidiol is a very safe natural product.